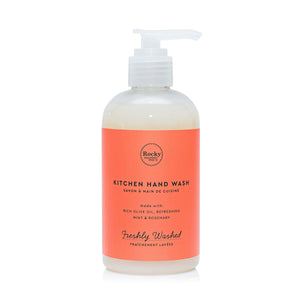 Food prep is a messy job, but you are ready for the challenge with our Kitchen Hand Wash. We use bio-based lactic acid with our natural & rich olive oil based soap to create a hand washing experience that can stand up to smells, grease, grime and other pitfalls of the home chef.
This deep cleaning liquid soap works hard to eliminate kitchen odours while keeping your hands soft and hydrated.
Our recipe (pun intended) is enhanced by the invigorating and energizing essential oils of lavender, eucalyptus, rosemary and peppermint for a refreshing sink side experience.